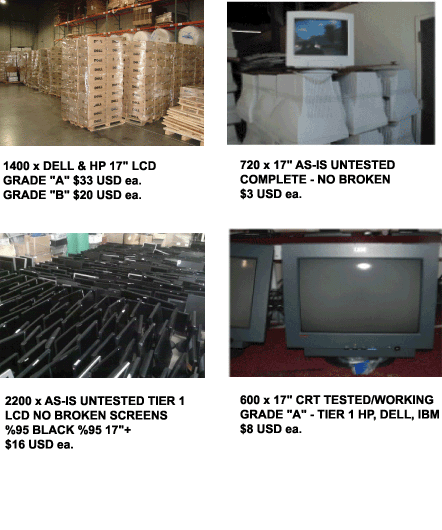 We stock a wide variety of wholesale off-lease monitors. All are sold in bulk quantities for export. We specialize in the exporting of bulk computer equipment overseas, and many of our customers are located in South America, Pakistan, India, Africa, and Eastern Europe. We sell a variety of different types of monitors ranging from tested/working wholesale to nonworking/ defective stocks. Computer obsolescence is a problem that faces the industry. We recycle and refurbish outdated computer monitors at affordable costs and export to countries that are searching for older generation technology.

• Wholesale / Surplus / Off-Lease / As-Is / Tested-Working and Non-Working Monitors
We receive thousands of used monitors each month from Fortune 500 companies. We also acquire monitors from government organizations and schools across the US and Canada.

• Wholesale Pricing For Monitors
We normally sell our used monitors by the container load. To receive the pricing advertised it is necessary to purchase by the container. We welcome potential customers to visit one of our warehouses in the US and Canada to inspect our facilities and our monitors. Our commitment to excellence guarantees that our customers will receive tested/working monitors at highly competitive pricing. We also can provide customers with nonworking monitors or as-is monitors which are stripped for their LCDs, capacitors, transistors, and other parts.
Fewer used monitors are being sent to landfills these days, many more are being recycled as global markets for used technologies develop. The computers and monitors sentenced to death in landfills have been given a second life in newly established recycled electronic goods markets. We provide our customers with second generation technology at competitive pricing. The fast pace of technological development has rendered many computers "obsolete," but these older systems are still capable of providing sufficient capabilities for everyday use. Our mission is to facilitate the transfer and the recycle of technology to places around the world that are in the process of acquiring computer technology.
We export to major countries in the world. We regularly ship to Pakistan, India, Sri Lanka, Egypt, Azerbaijan, Vietnam, Jordan, Iraq, Hong Kong, Bolivia, Venezuela, Colombia, Peru, Chile, Armenia, and Ghana. We currently export thousands of computers and monitors each month. Please check with your local customs office to check for any fees that are charged for importing used computer technology.
Partners:
Junk Removal - Removal of Ewaste
Floor Sanding - Renovating business environments